Alteraciones cognitivas secundarias a trauma craneoencefálico en la población pediátrica
Palabras clave:
Cognición, Secuela, Pediatría, Funciones ejecutivas, Trauma craneoencefálico
Resumen
El trauma craneoencefálico es una entidad prevalente en nuestra población y genera discapacidad importante en quienes lo padecen. La mayoría de los reportes al respecto se han llevado a cabo en población adulta y en relación con las alteraciones sensoriomotoras, sin embargo, hay mucha menos literatura en relación con la población pediátrica que sufre trauma craneoencefálico y así mismo en secuelas cognitivas, que pueden comprometer el desarrollo de estos individuos. La presente revisión reúne la información encontrada de literatura reciente en relación con las alteraciones cognitivas secundarias a trauma craneoencefálico en poblaciones pediátricas. Se hace énfasis en las funciones cognitivas que pasan por periodos críticos o ventanas vulnerables y de consolidación durante la infancia, como el lenguaje, la memoria, la atención y el control inhibitorio. Los compromisos que se han descrito para estas funciones pueden dar cuenta del impacto negativo del trauma craneoencefálico para procesos como el aprendizaje, el establecimiento de la cognición social y el desarrollo de las habilidades escolares, que a futuro influyen sobre la inclusión laboral y social de un individuo.
Citas
Morales W., Plata J., Plata S., et al. Trauma craneoencefálico en Pediatría: La importancia del abordaje y categorización del paciente pediátrico en el servicio de urgencias. Pediatr. 2019; 52(3):85-93. DOI: 10.14295/p.v52i3.121
Ghaffarpasand F, Razmkon A, Dehghankhalili M. Glasgow Coma Scale Score in Pediatric Patients with Traumatic Brain Injury; Limitations and Reliability. Bull Emerg Trauma. 2013; 1(4):135-136.
Charry J, Cáceres J, Salazar A, López L, Solano J. Trauma craneoencefálico. Revisión de la literatura. Revista Chilena de Neurocirugía. 2017; 43(2):177-182. DOI: 10.36593/rev.chil.neurocir.v43i2.82
Jiménez-Aguilar DP, Montoya-Jaramillo LM, Benjumea-Bedoya D, Castro-Álvarez JF. Traumatismo craneoencefálico en niños. Hospital General de Medellín y Clínica Somer de Rionegro, 2010-2017. Iatreia. 2020; 33(1):28-38. 2019. DOI: 10.17533/udea.iatreia.36.
Chaudhary S, Figueroa J, Shaikh S, Mays EW, Bayakly R, Javed M, et al. Pediatric falls ages 0-4: Understanding demographics, mechanisms, and injury severities. Inj Epidemiol. 2018; 5(Suppl 1):7. DOI 10.1186/ s40621-018-0147-x.
Gennarelli TA. Mechanisms of brain injury. J Emerg Med. 1993;11 Suppl 1:5-11.
Medina Marín A, Escobar Betancourth M. Sistema glutamatérgico, primera parte: sinaptología, homeostasis y muerte celular. Rev Colomb Psiquiatr. 2002; 31(3):193-218.
Taylor HG, Yeates KO, Wade SL, Drotar D, Stancin T, Minich N. A prospective study of short- and long-term outcomes after traumatic brain injury in children: behavior and achievement. Neuropsychology 2002; 16:15–27. DOI: 10.1037//0894-4105.16.1.15
Anderson V, Le Brocque R, Iselin G, Eren S, Dob R, Davern TJ, McKinlay L, Kenardy J. Adaptive ability, behavior and quality of life pre and posttraumatic brain injury in childhood. Disabil Rehabil. 2012; 34(19):1639-47. DOI: 10.3109/09638288.2012.656789.
Gosselin R. Injuries: the neglected burden in developing countries. Bulletin of the World Health Organization. 2009; 87(4):246-246. DOI: 10.2471/BLT.08.052290
Malla W, Pampori Z. Mechanics of memory – a review. International Journal for Innovative Research in Multidisciplinary Field. 2016; 2: 335-344.
Budson A, Price B. Memory Dysfunction. New England Journal of Medicine. 2005;352(7):692-699. DOI: 10.1056/NEJMra041071
Lajiness-O'Neill R, Erdodi L, Bigler E. Memory and Learning in Pediatric Traumatic Brain Injury: A Review and Examination of Moderators of Outcome. Applied Neuropsychology. 2010; 17(2):83-92. DOI: 10.1080/09084281003708837
Anderson V, Catroppa C. Memory outcome at 5 years post-childhood traumatic brain injury. Brain Injury. 2007; 21(13-14):1399-1409. DOI: 10.1080/02699050701785070
Babikian T, Satz P, Zaucha K, Light R, Lewis R, Asarnow R. The UCLA Longitudinal Study of Neurocognitive Outcomes Following Mild Pediatric Traumatic Brain Injury. Journal of the International Neuropsychological Society. 2011; 17(05):886-895. DOI: 10.1017/S1355617711000907
Rodríguez GRE. Las funciones psíquicas superiores, la corteza cerebral y la cultura. Reflexiones a partir del pensamiento de A. R. Luria. Scielo. Disponible en: http://www.redalyc.org/articulo.oa?id=141131696002
Tremblay P, Dick AS. Broca and Wernicke are dead, or moving past the classic model of language neurobiology. Brain Lang. 2016; 162:60-71. DOI: 10.1016/j.bandl.2016.08.004.
Carvalho A de J, Lemos SM, Goulart LM. Language development and its relation to social behavior and family and school environments: a systematic review. Codas. 2016; 28(4):470-9. DOI: 10.1590/2317-1782/20162015193.
Ewing-Cobbs, L., Levin, H. S., Eisenberg, H. M., & Fletcher, J. M. (1987). Language functions following closed-head injury in children and adolescents. Journal of Clinical and Experimental Neuropsychology, 9, 575–592. DOI: 10.1080/01688638708410770
Ewing-Cobbs L, Fletcher JM, Levin HS, Francis DJ, Davidson K, Miner ME. Longitudinal neuropsychological outcome in infants and preschoolers with traumatic brain injury. Journal of the International Neuropsychological Society. 1997; 3:581–591. DOI: 10.1017/S1355617708081150
Capilla A, Carboni A, Nuria P, Maestú F, González J. Desarrollo cognitivo tras un traumatismo cráneo-encefálico en la infancia. EduPsykhé. 2007; 6:171-198.
Laxe S, León D, Salgado D, Zabaleta M. Descripción de la evolución funcional del traumatismo craneoencefálico en una población pediátrica tras un programa de rehabilitación integral. Neurocirugía. 2015; 26(2):84-89. DOI: 10.1016/j.neucir.2014.09.008
Ana-Belén B. Carlos R. Alteraciones neuropsicológicas de la memoria, la atención y el lenguaje en el Síndrome Postraumático Craneal Leve. Rev Chil Neuro-psiquiatr. 2020; 58(2). DOI: 10.4067/S0717-92272020000200095
Febrer-Rotger A. Traumatismo craneoencefálico en el niño y adolescente. Rehabilitación. 2002; 36(6):346-352. DOI:10.1016/s0048-7120(02)73306-9
Jian X, Junyu W, Jinfang L. Post-traumatic mutism in children. Brain Injury. 2009; 23(5):445-449. DOI: 10.1371/journal.pone.0091088
Díaz MC, Guevara P. Desarrollo de las Funciones Ejecutivas durante la primera infancia y su afectación ante un Traumatismo Craneoencefálico. Revista Chilena de Neuropsicología. 2016; 11(2):40-44. DOI: 10.5839/rcnp.2016.11.02.07
Friedman NP, Miyake A. Unity and diversity of executive functions: Individual differences as a window on cognitive structure. Cortex. 2016. DOI: 10.1016/j.cortex.2016.04.023.
Chevalier N. Executive Function Development. Current Directions in Psychological Science. 2015; 24(5):363-368. DOI: 10.1177/0963721415593724
Diamond A. Executive functions. Annu Rev Psychol. 2013; 64:135-168. DOI: 10.1146/annurev-psych-113011-143750
Anderson V, Jacobs R, Spencer-Smith M, Coleman L, Anderson P, Williams J, Leventer R. Does early age at brain insult predict worse outcome? Neuropsychological implications. Journal of Pediatric Psychology. 2010; 35(7):716-727. DOI: 10.1093/jpepsy/jsp100.
Giza CC, Prins ML. Is being plastic fantastic? Mechanisms of altered plasticity after developmental traumatic brain injury. Developmental Neuroscienc. 2006; 28:364-379. DOI: 10.1159/000094163
Johnston M. Plasticity in the developing brain: Implications for rehabilitation. Developmental Disabilities Research Reviews. 2009; 15:94-101. DOI: 10.1002/ddrr.64
Krasny-Pacini A, Chevignard M, Lancien S, Escolano S, Laurent-Vannier A, De Agostini M et al. Executive function after severe childhood traumatic brain injury – Age-at-injury vulnerability periods: The TGE prospective longitudinal study. Annals of Physical and Rehabilitation Medicine. 2017; 60(2):74-82. DOI: 10.1016/j.rehab.2016.06.001
Contreras F, Kheraj P, Terán D. Revisión Teórica y Evaluación de la Cognición Social en Niños con Traumatismo Craneoencefálico. 2017.
Anderson V, Ylvisaker M. Executive function and the frontal lobes: Themes for child development, brain insult and rehabilitation. Developmental Neurorehabilitation. 2009; 12(5):253-254. DOI: 10.3109/17518420903086899
Fernández A. Neuropsicología de la atención. Conceptos, alteraciones y evaluación. Revista Argentina de Neuropsicología. 2014; 25: 1-28.
De Brigard F, Prinz J. Attention and consciousness. Wiley Interdisciplinary Reviews: Cognitive Science. 2009; 1(1):51-59. DOI: 10.1002/wcs.27
Sans RC, López-Sala A, Boix C. Aspectos neuropsicológicos del daño cerebral difuso adquirido en la edad pediátrica. Rev Neurol. 2009; 48(Supl 2):S23-6. DOI:10.33588/rn.48S02.2009016
Leclercq M, Azouvi P. Attention after traumatic brain injury. En: Leclercq y Zimmermann (Eds.). Applied neuropsychology of attention. Hove UK: Psychology Press; 2002. p. 251-273.
Hernández Ramírez, D., & Jiménez Montero, M. G. Perfiles de rendimiento neuropsicológico en niños y niñas con trauma craneoencefálico: atención, control inhibitorio y memoria de trabajo. 2015; 16-18.
Fan J, Mccandliss B, Fossella J, Flombaum J, Posner M. The activation of attentional networks. NeuroImage. 2005; 26(2):471-479. DOI: 10.1016/j.neuroimage.2005.02.004
Mezzacappa E. Alerting, orienting, and executive attention: developmental and socio-demographic properties in an epidemiological sample of young, urban children. Child Development. 2004; 75:1373-1386. DOI: 10.1111/j.1467-8624.2004.00746.x
Fan J, McCandliss B, Sommer T, Raz A, Posner M. Testing the Efficiency and Independence of Attentional Networks. Journal of Cognitive Neuroscience. 2002; 14(3):340-347. DOI: 10.1162/089892902317361886.
Konigs M, Heij H, van der Sluijs J, Vermeulen R, Goslings J, Luitse J et al. Pediatric Traumatic Brain Injury and Attention Deficit. Pediatrics. 2015; 136(3):534-541. DOI: 10.1542/peds.2015-0437
Barriga A, Doran J. Relationships between problem behaviors and academic achievement in adolescents: the unique role of attention problems. J Emotional Behavioral Disorders. 2002; 10(4):233–240. DOI: 10.1177/10634266020100040501
Anderson V. Thirty month outcome from early childhood head injury: a prospective analysis of neurobehavioural recovery. Brain. 2004; 127(12):2608-2620. DOI: 10.1093/brain/awh320
Cristofori I, Cohen-Zimerman S, Grafman J. Executive functions. The Frontal Lobes. 2019; 197-219. DOI: 10.1016/B978-0-12-804281-6.00011-2.
Le Fur C, Câmara-Costa H, Francillette L, Opatowski M, Toure H, Brugel D et al. Executive functions and attention 7 years after severe childhood traumatic brain injury: Results of the Traumatisme Grave de l'Enfant (TGE) cohort. Annals of Physical and Rehabilitation Medicine. 2020; 63(4):270-279. DOI: 10.1016/j.rehab.2019.09.003
Roth R, Erdodi L, McCulloch L, Isquith P. Much ado about norming: The Behavior Rating Inventory of Executive Function. Child Neuropsychology. 2014; 21(2):225-233. DOI: 10.1080/09297049.2014.897318
Schachar R, Levin H, Max J, Purvis K, Chen S. Attention Deficit Hyperactivity Disorder Symptoms and Response Inhibition After Closed Head Injury in Children: Do Preinjury Behavior and Injury Severity Predict Outcome? Developmental Neuropsychology. 2004; 25(1-2):179-198. DOI: 10.1080/87565641.2004. 9651927.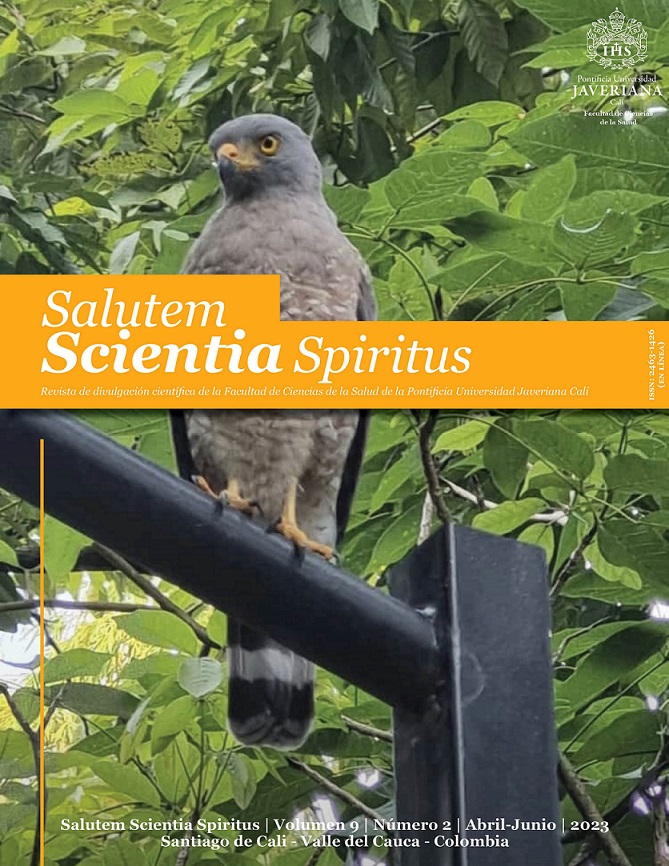 Descargas
Cómo citar
Santrich-Sotomayor, M., Ardila-Martínez, M. P., Castañeda-Rendón, V., Mejía-Duran, M. C., Quintero-Orozco, M. A., González-Acosta, C. A., & Becerra, L. (2023). Alteraciones cognitivas secundarias a trauma craneoencefálico en la población pediátrica. Salutem Scientia Spiritus, 9(2), 97–104. Recuperado a partir de https://revistas.javerianacali.edu.co/index.php/salutemscientiaspiritus/article/view/1368
Sección
Revisión de la literatura
Licencia
Derechos de autor 2023 Salutem Scientia Spiritus
Esta obra está bajo una licencia internacional Creative Commons Atribución-NoComercial-SinDerivadas 4.0.
La Revista Salutem Scientia Spiritus usa la licencia Creative Commons de Atribución – No comercial – Sin derivar: Los textos de la revista son posibles de ser descargados en versión PDF siempre que sea reconocida la autoría y el texto no tenga modificaciones de ningún tipo.